Kart XTREME 250W 36V/3.6Ah Red
Drive a racing Kart and compete with your friends, the Kart XTREME 250W 36V/3.6Ah will not leave you indifferent. It has luminous wheels and ambient racing sound with which you will play like never before. Listen to your favorite music while driving the Xtreme kart has Bluetooth technology for guaranteed fun.
Enjoy the adrenaline of driving without risks with the seat belt, handbrake and reverse gear for real and safe driving. Electric Karts are very entertaining vehicles that offer fun and are easy to use.
Accelerate with the pedal, this kart reaches up to 20 km/h with 3 available speeds and a range of 8 to 10 km depending on driving conditions.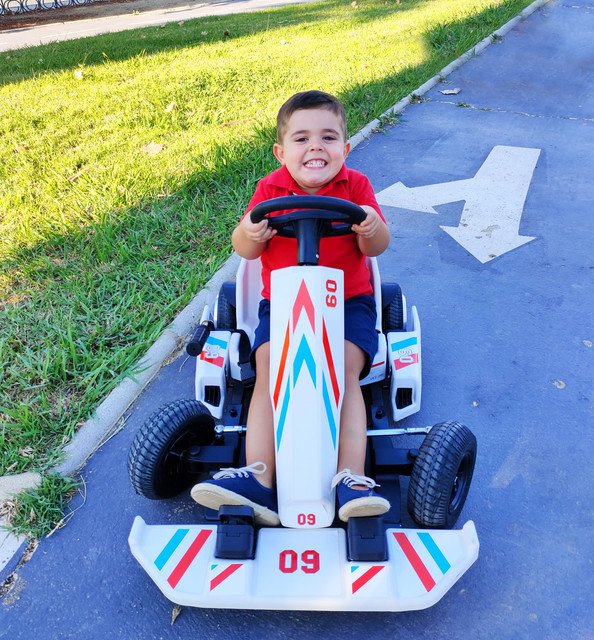 With this kart, you will enjoy all the freedom of being a vehicle. Recommended for children from 8 to 13 years old, the Kart Xtreme complies with all the safety requirements and European regulations.
Characteristics
- 3 Speeds:
- Mode 1: Up to 12 Km/h
- Mode 2: Up to 15 Km/h
- Mode 3: Up to 20 Km/h

- Maximum Speed: 20 Km/h
- Reverse
- Bluetooth Technology

- Ambient Sound

- Speakers
- Motor: 250W

- Lithium Battery 36V / 3.6 Ah
- Autonomy from 8 to 10 km
- Accelerator pedal
- Hand brake
- Wide Seat

- Safety Belt
- Luminous Wheels

- Tires:
- Front 8"

- Rear 6.5"
- Net Weight: 24 kg
- Maximum Weight Supported: 65 Kg
- Complies with the regulations of the European Union.
- Recommended age from 8 to 13 years
Specifications
- Kart size: 105 x 80 x 34cm
- Product weight: 24 kg
- Maximum weight supported: 65 kg
- Box dimensions: 84 x 60 x 33 cm
Warranty: 3 years