Electric Bike Flash Black Biwond
The perfect electric children's bike? Look no further, you have found it! Enjoy the Flash White Biwond Electric Bicycle ideal for ages between 4 and 8 years. Versatile and safe, you can adjust the seat and handlebars as your little one grows.
This electric bicycle allows your child to learn balance on two wheels, through electrical support. With the Flash bike, your little one will enjoy the same amount of muscular effort, essential for their health, and electrical assistance to save energy.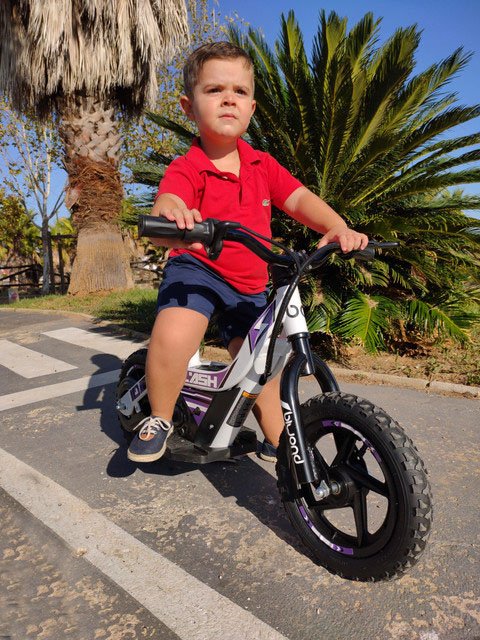 Your son will experience speed and adrenaline safely so that his first years are unique This children's bicycle is ideal for beginners and practicing braking and stability with the greatest safety for your little one.
Main features
- 100% electric children's bicycle
- 100W Brush motor
- Speed ​​6 km/h
- Autonomy: 6 to 9 km
- Maximum slope ascent: 6 to 9º
- 24V 2Ah lithium battery - Battery

level light indicator

- Adjustable seat

- Support pedals

- Rear drum brake

- Tires: 12"
- Maximum weight supported: 40 Kg.
- Complies with the regulations of the European Union.
- Recommended age from 4 to 8 years

Specifications
- Product size: 980 x 510 x 568mm
- Box size: 840 x 2650 x 450mm
- White color
- Product weight: 10 kg
- Maximum weight supported: 40 kg
- Charging time: 3 to 6 hours

- Charging cycles: 300

- Charger: AC 100V-240V
- Temperature range: 0? - 40?

Includes

- 1 x Flash White Biwond Electric Bicycle

- 1 x 24V 2Ah Lithium Battery

- 1 x Charger

- 1 x Spanish Manual


Do you need a second charger or a new battery? Buy it now and renew the accessories of your Flash Children's Electric Bicycle!
(see accessories at the top of the sheet)
- Buy Lithium Battery 25.2V/4Ah
- Buy Charger 29.4V/0.6Ah
Warranty
3 years